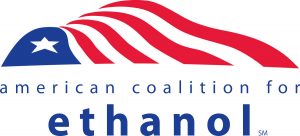 American Coalition for Ethanol (ACE) CEO Brian Jennings testified on behalf of the organization's members today during a virtual public hearing on the Environmental Protection Agency's (EPA) proposed Renewable Fuel Standard (RFS) rulemaking for 2020, 2021 and 2022 compliance years.
Jennings noted that they are pleased EPA proposed a statutory 15 billion gallons for 2022 and put forth a plan to remedy the 500 million gallons in remanded volume by the DC Circuit Court in 2017. However, ACE strongly opposes EPA's proposal to retroactively waive 2020 volumes and reduce 2021 volumes. As currently drafted, the proposal does not guarantee 15 billion gallons of low carbon ethanol will be used in 2022.
"This approach essentially shifts more of the pandemic burden from refiners to ethanol producers and farmers by allowing gallons already sold to be counted against 2022 volumes," Jennings explained.
ACE board president Dave Sovereign representing Golden Grain Energy LLC, and ACE board members Rick Schwarck of Absolute Energy LLC and Richard Syverson representing the Minnesota Corn Growers Association, along with members Jeff Oestmann of Granite Falls Energy LLC and Jerry Calease also testified at the hearing. EPA's comment period on the proposed RVOs closes on February 4.
EPA RFS hearing - Brian Jennings, ACE
(3:32)