Bayer, Bushel and Amazon Web Services (AWS) today unveiled Project Carbonview – a first-of-its-kind technology solution to help farmers drive more sustainable supply chains by aggregating the carbon footprint of end products, starting with ethanol.
Beginning as a pilot program, Project Carbonview is focused on creating awareness and acceptance for low-carbon fuel markets. Eligible farmers who enroll in the pilot will receive compensation for participation. Ultimately, once these markets are broadly established, we anticipate growers will be compensated based on the implementation of sustainable farming practices and will share in the financial incentives created by low-carbon fuel markets.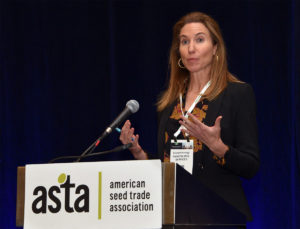 "This is designed currently for the ethanol supply chain and specifically for..ethanol processing facilities and the information they need to make good procurement decisions," said Elizabeth Fastiggi, Head of Worldwide Agriculture BD at Amazon Web Services (AWS), speaking Wednesday morning at the ASTA CSS & Seed Expo.
Elizabeth Fastiggi, Amazon
(6:34)
Project Carbonview focused on the United States will initially enable U.S. ethanol producers (corn is a key ingredient in ethanol production) to track carbon emissions across the entire supply chain – from planting through production – and implement more sustainable business practices by providing the data needed to make more informed purchasing decisions and reduce their carbon emissions. For farmers who opt into the program, Project Carbonview streamlines on-farm data collection with Bayer's Climate FieldView™ application and connects it with delivery and transportation data captured from the 54,000 U.S. active users of Bushel's platform. Through the Climate FieldView™ platform, farmers continue to own their data and choose who to share their data with.