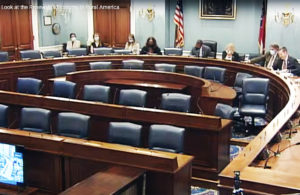 A House Agriculture Subcommittee hearing on the "Renewable Economy in Rural America" provided a forum for lawmakers on both sides of the aisle to urge the Biden administration to keep its promises to the biofuels industry, particularly when it comes to issuing Renewable Volume Obligations under the Renewable Fuel Standard (RFS).
"The administration should immediately issue robust RVO numbers for 2022," said Rep. Angie Craig (D-MN). "I'm hearing from farmers who are wondering about all these rumors swirling about the RVOs the administration is considering. They thought they could expect robust numbers, not more relief for refiners."
Hearing questioning from Rep. Craig (D-MN)
(4:56)
Rep. Rodney Davis (R-IL) noted that he sent a letter the White House in June asking about rumors that "the administration was considering a nationwide waiver of the RFS to cut demand for more combined gallons than all those cut due to the small refinery exemptions issued by the prior administration."
Both Growth Energy CEO Emily Skor, speaking on behalf of the ethanol industry, and Missouri Soybean Association Executive Director Gary Wheeler for the biodiesel industry, agreed that the rumored administration plan to retroactively cut volume obligations would be unprecedented.
Hearing questioning from Rep. Davis (R-IL)
(4:36)
Lawmakers also brought up the fact that the administration has yet to provide promised aid to biofuel producers impacted by COVID restrictions last year, the court ruling invalidating year round sales of E15, and the importance of accurate greenhouse gas modeling for biofuels.
Ranking Member Michelle Fischbach (R-MN) asked about what impact the uncertainty cause by delayed RVOs and the loss of E15 sales in the summer months is causing. "When we have year round access to E15, when we have the Renewable Fuel Standard upheld as Congress intended, that's how we start to unleash the power of biofuels," said Skor in reply.
Hearing questioning from Rep. Fischbach (R-MN)
(2:24)
Reps. Cheri Bustos (D-IL), Cindy Axne (D-IA), and Randy Feenstra (R-IA) all had questions about the role of biofuels in a low carbon future, and how infrastructure funding and the Next Generation Fuels Act could help the industry.
Hearing questioning from Rep. Bustos (D-IL)
(3:44)
Hearing questioning from Rep. Axne (D-IA)
(5:06)
Hearing questioning from Rep. Feenstra (R-IA)
(4:11)