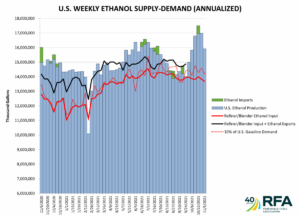 Ethanol production dropped last week, but still was above a million barrels per day (b/d), according to the latest EIA data analyzed by the Renewable Fuels Association.
RFA reports that ethanol production was down 68,000 barrels per day (b/d) for the week ending November 5, or 6.1%, to 1.039 million b/d.
This is equivalent to 43.64 million gallons daily. Production was 6.3% above the same week last year, which was affected by the pandemic, and 0.9% above the same week in 2019. The four-week average ethanol production volume increased 0.2% to 1.087 million b/d, equivalent to an annualized rate of 16.66 billion gallons (bg).
Ethanol stocks rose 0.8% to a nine-week high of 20.3 million barrels. Stocks were 0.6% above the year-ago level but 3.3% lower than the same week in 2019.