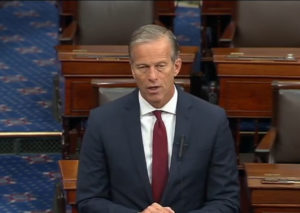 Sen. John Thune (R-SD), along with Sen. Chuck Grassley (R-IA) and several Senate colleagues, are requesting a meeting with President Biden and representatives of his cabinet to discuss the Renewable Fuel Standard and promote biofuels as a key solution for America's energy and climate agenda. The senators made a similar request in July and received no response.
"Mr. President, biofuels are a readily available energy solution that deserve full consideration—not only for helping to stem the recent increase in fuel prices, which has subsequently accelerated inflation—but to serve as a foundational source of transportation emission reductions as part of your energy and environmental agenda," the senators wrote. "We call on your administration to utilize the full capacity of American agriculture to deliver on both fronts, and we reiterate our request to discuss these matters with you in greater detail."
Joining Thune and Grassley in signing the letter were Sens. Roy Blunt (R-MO), Jerry Moran (R-KS), Deb Fischer (R-NE), Mike Rounds (R-SD), Joni Ernst (R-IA), Ben Sasse (R-NE) and Roger Marshall (R-KS).
American Coalition for Ethanol (ACE) CEO Brian Jennings thanked the senators for renewing their request to meet with President Biden and discuss the tremendous opportunity that biofuels like ethanol present to contribute to the Administration's energy, environmental and transportation agenda. "Achieving net-zero emissions by 2050 will be more attainable if we start making progress right now with low carbon ethanol, and we join these Senators in calling on the President to give biofuels his full consideration," said Jennings.