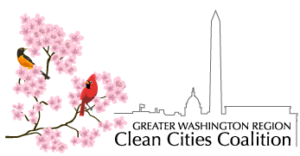 The Greater Washington Region Clean Cities Coalition (GWRCCC) is getting some help toward lower greenhouse gas emissions in the District thanks to a U.S. Environmental Protection Agency (EPA) 2021 Diesel Emissions Reduction Act (DERA) grant.
The Project will retire 14 diesel powered vehicles, replacing them with 12 B100 (100 percent biodiesel) vehicles. This effort is projected to reduce greenhouse gases by 76% (98.3 metric tons); this is the equivalent of remove 21.4 passenger cars or planting 1,625 trees. In addition, this project will reduce harmful particulate matter (known to cause cancer, asthma, and lung-related issues) by 97%. The vehicles will also reduce nitrogen oxides (known to cause low level ozone) by 94% among other harmful air emission.
GWCCC Executive Director Ira Dorfman participated in a Virtual B100 Biodiesel Technology Showcase this week. "It appears that Washington DC has become a hot bed for the utilization of B100," he said.
GWCCC Executive Director Ira Dorfman
(2:01)
The National Biodiesel Foundation and National Biodiesel Board are partners in the project.