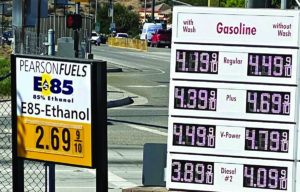 According to AAA, the national average price for a gallon of gas was $3.27 on October 11, the highest price since October 2014. It is 10 cents more than a month ago, $1.09 more than a year ago, and 63 cents more than pre-pandemic in 2019. With gas prices forecast to continue rising, there are reports that the White House is meeting with oil industry officials to discuss solutions.
The Renewable Fuels Association has a solution for President Biden. "Instead of pursuing actions that will lead to increased crude oil production, we again urge your administration to pursue a real and immediate solution to higher pump prices—increased production and use of low-carbon renewable fuels like ethanol," said RFA President and CEO Geoff Cooper in a letter sent to the President this week. "We encourage your administration to expeditiously finalize robust RFS volume requirements for 2021 and 2022, take action to ensure consumers have year-round access to gasoline continuing 15% ethanol (E15), and work with Congress to ensure upcoming legislation includes the incentives necessary to support increased FFV production and expanded infrastructure for higher ethanol blends like E15 and E85."
According to the latest EIA data analyzed by RFA for the week ending October 8, ethanol production was back up to the million barrel per day level, increasing 5.5% to a 13-week high of 1.032 million b/d (43.34 million gallons.) However, the latest EIA Short Term Energy Outlook lowered the fuel ethanol production average to 960,000 barrels per day for this year, an increase from 2020, but not back up to the million gallon per day level until maybe next year.