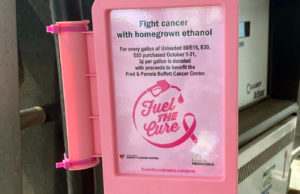 October has been Breast Cancer Awareness Month for over 35 years and this is the fourth year that Nebraska ethanol is helping to Fuel the Cure.
Throughout October, drivers can help Fuel the Cure for breast cancer by filling up with higher blends of ethanol – E15 to flex fuel E85 – at participating locations. Nearly 50 Nebraska gas stations will donate 3 cents for every gallon of higher ethanol blends sold between Oct. 1­‑31 to support cancer research at the Fred & Pamela Buffett Cancer Center in Omaha. Since 2018, Nebraska's Fuel the Cure campaigns have raised more than $18,000 for cancer research. Find a list of participants at www.fueledbynebraska.com/pink.
Drivers will also be able to identify which retailers are supporting the cause by looking for pink signage at the pump, on the windows and at the counter.
"Through this annual 'Fuel the Cure' promotion, we're helping put an end to cancer through contributions to life-saving research and through the promotion and usage of ethanol," said Jay Reiners, chairman of the Nebraska Corn Board. The corn board, along with Nebraska Ethanol Board, and Renewable Fuels Nebraska sponsor Fuel the Cure in conjunction with retail stations.