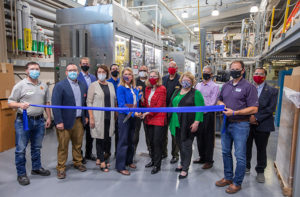 Renewable Energy Group, Inc. (REG) joined Iowa State University (ISU) this week for a ribbon cutting ceremony at the BioCentury Research Farm (BCRF) to celebrate the start of a new hydrotreater pilot plant.
The hydrotreater pilot plant, the result of a three-year collaboration between REG and the ISU Bioeconomy Institute, will work on how various biomass feedstocks can play a role in the production of renewable fuels with a specific focus on renewable diesel. The pilot plant is a multi-reactor state-of-the-art research and development unit designed by REG's engineering teams to accelerate the development of new feedstocks and processes. The system is fully automated and configured to run safely and reliably for weeks at a time.
"This project is a result of our longstanding partnership with Iowa State University, and our joint interest in continuing to position the state of Iowa as a hub for innovation and excellence," said REG President & CEO, Cynthia (CJ) Warner. "As one of the first biodiesel and renewable diesel producers in the nation, innovating is in our DNA, and having the capability to develop additional feedstock options for our industry will help meet the growing demand for cleaner fuels."
Renewable diesel is a low-carbon cleaner fuel that, through a catalytic process utilizing heat, pressure and hydrogen, known as hydrotreating, can convert feedstocks into a hydrocarbon fuel that is chemically similar to traditional diesel. Research at this new hydrotreater pilot plant will support REG's Geismar, Louisiana renewable diesel plant by helping to evaluate new low-carbon feedstocks and optimize production of renewable diesel and sustainable aviation fuel (SAF).