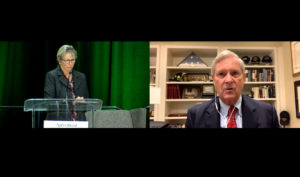 During an appearance before the Agricultural Business Council of Kansas City and Agri-Pulse Ag Outlook Forum Monday, Secretary of Agriculture Tom Vilsack addressed concerns about the proposed tax credit for sustainable aviation fuel that it might leave out corn and soybean feedstocks.
Agri-Pulse editor and president Sara Wyant asked the secretary if we can expect the administration to "weigh in for inclusion of corn and soybeans" in the SAF tax credit language.
"The fact that the (Sustainable Aviation Fuels) Grand Challenge focused on the work that USDA is doing in terms of feedstocks, I would hope would indicate to people that is the administration's position," said Vilsack. "You want to make sure when you create a new industry that you provide opportunities in every part of the country to participate. Is it going to be corn and soybeans only? No, it's not."
Secretary Vilsack also talked about other ways the administration is helping the biofuels industry during the forum.
KC Ag Outlook Forum - Vilsack on biofuels
(9:10)