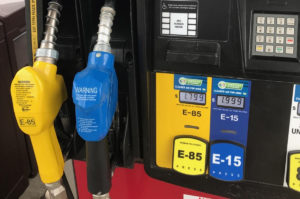 The D.C. Circuit Court of Appeals Thursday denied a petition for rehearing regarding the recent American Fuel & Petrochemical Manufacturers, et al. vs. EPA decision, in which the court vacated a 2019 regulation allowing year-round sales of a fifteen percent ethanol fuel blend (E15).
Petitioners the Renewable Fuels Association, Growth Energy and the National Corn Growers Association released the following statement:
"Today's petition denial is another hurdle to ensuring year-round access to low-carbon E15, however, due to timing, American drivers and retailers will be able to finish out the E15 summer driving season without disruption to their access to cleaner fuel choices at the pump. Moving forward, we continue to push for a permanent remedy long before the start of next year's summer driving season."
American Coalition for Ethanol (ACE) CEO Brian Jennings says they are disappointed in the decision even though EPA's interpretation of the Clean Air Act to permit E15 the same gasoline volatility treatment as E10 is consistent with Congressional intent and reflects the realities of today's motor fuel market. "As we're just days away from the end of the summer driving season, this ruling should not impact 2021 summer sales of E15, and ACE is helping pursue multiple avenues to ensure E15 sales will not be disrupted next year," said Jennings, adding that ACE is encouraging support of bipartisan, bicameral legislation to allow year-round E15 sales.