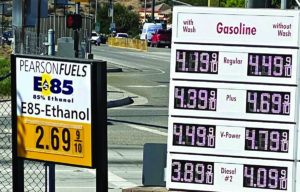 Corn growers in Missouri, Kansas, and Nebraska are helping to build E85 infrastructure in the top U.S. market for ethanol.
The corn checkoff programs in the three states are leveraging resources to provide California fuel retailers up to $1.25 million over the next year to increase availability of E85 (85% ethanol). Fuel will be supplied by Pearson Fuels, the largest E85 distributor in California with nearly 250 retail stations located throughout the state.
Growers from the three corn checkoff organizations met with representatives from Pearson Fuels in San Diego in July to discuss potential opportunities to grow E85 demand. California is by far the strongest E85 market in the country, accounting for more than 40 million gallons in 2020, and is on track to reach 50 million gallons in 2021.
Jay Schutte, Missouri Corn Merchandising Council chairman and corn grower from Benton City, took part in discussions in San Diego and was impressed with the potential expanded partnership. "Our infrastructure grant dollars, teamed with Pearson Fuels' marketing and local expertise, will allow us to increase ethanol sales faster in California compared to anywhere else in the country."