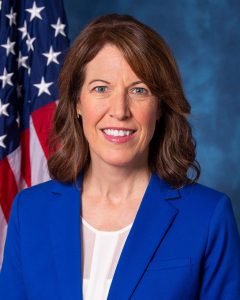 The initial draft of the U.S. House Build Back Better Act includes a billion dollars for biofuels infrastructure to support expanded availability and use of renewable fuels, according to Rep. Cindy Axne (D-IA) who worked to secure the funding.
"This is a great day for our rural communities, our agricultural economy, our planet, and for hundreds of thousands of Americans whose jobs will be supported by the investments I've helped secure in the Build Back Better Act," said Rep. Axne. "Make no mistake, this was no easy fight. For months, I have been helping members of the administration, the Senate, and my own colleagues in the House understand the key advantages of biofuels – from the fact that it's been proven to be more than twice as clean as fossil fuels to how much it can help the economies of states like Iowa. But I wouldn't let up, because it was clear from other infrastructure negotiations that this was not as much of a priority for others in Washington.
"While I will still withhold my final decision on this package until I see the full bill, seeing these investments included will be a critical part of my choice," Rep. Axne added.
House committees are working on a draft of the comprehensive legislative package ranging from infrastructure to health care, education, and climate. The $1 billion in funding would be for the U.S. Department of Agriculture to provide grants over the next eight years to expand biofuel pump infrastructure, upgrade existing tanks and pumps, and increase usage of higher blends of ethanol and biodiesel.
That investment is double the amount originally proposed in the Renewable Fuels Infrastructure Investment and Market Expansion Act, introduced by Axne in March.
Rep. Axne was one of a number of Democrat members of the House and Senate who sent a letter last week to Senate Majority Leader Chuck Schumer (D-NY) and Speaker of the House Nancy Pelosi (D-CA) urging them to include support for renewable fuels in the reconciliation package.
"Providing additional market access for higher blends of low carbon fuels in the budget reconciliation process will create jobs in rural communities, lower the price of fuel for consumers at the pump, reduce our dependence on fossil fuels, and, most importantly, decrease carbon emissions," the legislators wrote.
In addition to Axne, the letter was signed by U.S. Senators Amy Klobuchar (D-MN), Tammy Duckworth (D-IL), Tammy Baldwin (D-WI), Tina Smith (D-MN), and Dick Durbin (D-IL) and Representatives Angie Craig (D-MN), Cheri Bustos (D-IL), and Mark Pocan (D-WI).