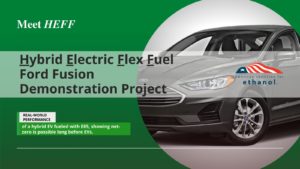 The American Coalition for Ethanol (ACE) unveiled a new hybrid electric flex-fuel vehicle demonstration project at its conference last week to show how the combination can bring us closer to net zero.
"EPA assigns vehicles a carbon intensity (CI) score based on how many grams of CO2 per mile are emitted by operating that vehicle," said ACE Senior Vice President Ron Lamberty. "While scores exist for hybrids, plug-in electrics, plug-in hybrids, flex-fuel and standard vehicles, one combination that is not represented, and hasn't even been attempted in the U.S., is the one that makes the most sense to me: a hybrid electric flex fuel vehicle."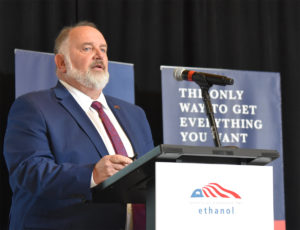 So, Lamberty bought a Hybrid Electric Ford Fusion and drove it to California in early August to meet with E85 wholesaler Pearson Fuels and the owners of eFLexFuel Technology to install their flex fuel conversion kit on the vehicle. He drove the now Hybrid Electric Flex Fuel Ford Fusion, he nicknamed "HEFF," back to South Dakota to start a three-year demonstration project. The front-wheel-drive midsize sedan starts up on electricity and is powered by a 2.0-liter, four-cylinder engine capable of using up to E85 matched to an electric motor for a combined 188 horsepower.
According to Lamberty, from a total greenhouse gas reduction standpoint, it makes sense for a hybrid to use the cleanest liquid fuel available when charging and not running on electricity, and that's E85. Lamberty calculated a hybrid electric vehicle running on low-CI E85 could obtain a total GHG score as low as 20 to 25 grams of CO2 per mile, which is lower than current EPA total GHG emissions calculations for PHEVs or full EVs. Yet no major automakers offer a flex-fuel hybrid vehicle.
Learn more in this interview and stay tuned for updates!
ACE Senior VP Ron Lamberty – E85 and hybrid electric vehicles
ACE 2021 Interview with Ron Lamberty, ACE 9:27