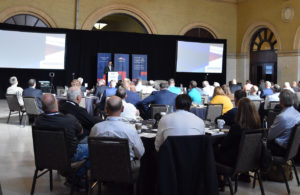 The American Coalition for Ethanol (ACE) wrapped up its 34th annual conference in Minneapolis on Friday after a great two days of exciting information that had attendees feeling upbeat about the future despite facing some of the same challenges.
ACE CEO Brian Jennings says everyone was happy to be together and drew strength from each other, even as news reports swirled on Friday that the administration was planning to hit the industry with another punch by possibly lowering the renewable volume obligations (RVOs) under the RFS. "Unnamed sources are telling Reuters well, we think they're either going to lower them or they're not going to issue them and that tells me people don't know," said Jennings.
The conference program focused heavily on the low carbon opportunities for ethanol.
"…ACE has been highlighting how climate-smart farming practices, efficiencies at ethanol plants, and the capture and sequestration of biogenic CO2 from facilities puts ethanol on a trajectory to reach both net-zero and net-negative emissions — a trajectory that is unique to ethanol," Jennings stated in his remarks, adding that ACE has also "helped mobilize diverse coalitions comprised of some environmental groups and electric vehicle advocates to pursue new technology-neutral clean fuel policies at the state and federal level that will ensure a growing market for low carbon ethanol even as overall petroleum use declines."
Listen to Jennings' remarks and wrap-up interview below.
ACE 2021 CEO Brian Jennings remarks
19:36
ACE 2021 CEO Brian Jennings wrap up interview
9:24
2021 Annual ACE Conference Photo Album