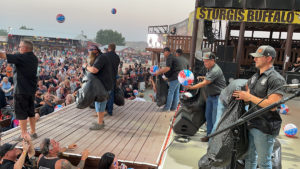 Free Fuel Happy Hours sponsored by the Renewable Fuels Association during the Sturgis Rally at the Buffalo Chip Campground reach hundreds of bikers each year, but it's on stage before the big name concerts that ethanol gets the most exposure.
"This year we had Kid Rock on Sunday evening," said RFA member Craig Ammann, North America at Lallemand Biofuels & Distilled Spirits. "To be able to go out and promote ethanol in front of a crowd of 50,000 people, that's a real thrill."
RFA past chair Mick Henderson, Commonwealth Agri-Energy, agrees that the stage is where they get the most exposure. "When Robert White says we're the Free Fuel guys, he gets cheers from the crowd," said Henderson. "When he says we're the free fuel ethanol guys, he gets that connection there."
RFA throws coozies and beach balls out into the crowd, some with gift cards for fuel.
Interview with RFA past chair Mick Henderson, Commonwealth Agri-Energy
5:01
Interview with Craig Ammann, Lallemand Biofuels & Distilled Spirits
4:25