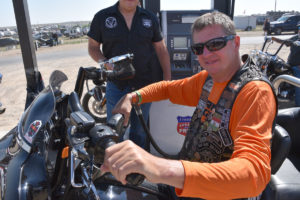 The annual Sturgis Motorcycle Rally attracts visitors from all over the world. During the Free Fuel Happy Hours, educational and promotion efforts by the Renewable Fuels Association are conducted at the Buffalo Chip Campground. I spoke with one of the bikers who is a return visitor from Hungary. He says that in Hungary, fuel blended with ethanol up to 10 percent is common and he has always used it in his motorcycle. You can hear what's he's got to say here.
Sturgis vistor/motorcycle rider from Hungary loves ethanol
Sturgis visitor from Hungary :38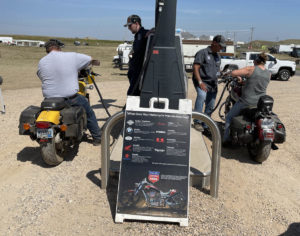 During the Free Fuel Happy Hours promotion RFA supplies important information for bikers, like this display showing that all motorcycle manufacturers warranty the use of a 10 percent blend of ethanol in their machines. On hand, are staff and board members who answer questions for anyone wanting to learn more.
The Free Fuel Happy Hours take place this week Monday – Thursday, 10am to 1pm, at the permanent fuel pump at the Buffalo Chip Campground.