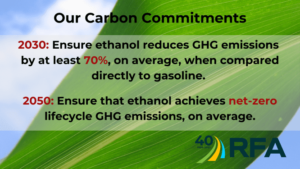 Renewable Fuels Association members from across the country sent a letter to President Joe Biden this week pledging to achieve a net-zero carbon footprint, on average, by 2050 or sooner.
Ethanol is already cutting greenhouse gas emissions by half compared to gasoline, the letter says, but "we can—and must—do more" to decarbonize transportation fuels and combat climate change in the decades ahead. The letter comes after RFA's board of directors met last week in St. Louis and adopted a resolution outlining their carbon performance goals for 2030 and 2050.
"Today's grain-based ethanol is already a low-carbon fuel that is helping to clean up our nation's transportation fuels," RFA members wrote, highlighting a recent analysis from the Department of Energy's Argonne National Laboratory that shows today's typical corn ethanol reduces GHG emissions by 52 percent when directly compared to gasoline. "But with smart policy measures, ethanol can do even more. It can serve as an affordable zero-emissions fuel for light-duty cars and trucks, while also helping to decarbonize medium- and heavy-duty vehicles, aviation, marine, and stationary power generation."
To support the achievement of its goals, RFA encouraged the development of a national Clean Fuel Standard, support for carbon capture, utilization and sequestration, and increased adoption of flex-fuel vehicles.
The letter was signed by ethanol producers from California, Idaho, Illinois, Indiana, Iowa, Kansas, Kentucky, Minnesota, Missouri, Nebraska, New York, North Dakota, Ohio, Oregon, South Dakota, and Wisconsin.