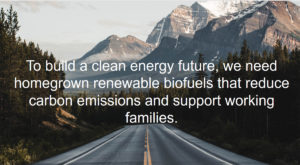 Two new campaigns are taking aim at lawmakers in Washington D.C. with information about the environmental benefits of corn ethanol to reduce carbon emissions.
The National Corn Growers Association (NCGA) launched a digital campaign including non-skippable video units on streaming services, video on local websites within Washington D.C. and social media marketing on Facebook and Instagram. In addition, NCGA was the sole sponsor of the latest Agri-Pulse Podcast Deep Dive series on biofuels and sponsored content in Politico.
Meanwhile, Growth Energy has launched a new digital ad campaign urging President Biden and leaders in Congress to stop oil industry handouts and uphold their commitments to reduce carbon emissions and support low-carbon biofuels. The ads, appearing online in the Washington Post and POLITICO, will run until August and will direct readers to an action page focused on restoring year-round sales of E15 and emphasizing the importance of strong Renewable Volume Obligations (RVOs) under the Renewable Fuel Standard (RFS).
The actions come in the wake of recent court decisions that could limit the market for U.S. biofuels and reports that the Biden administration will delay proposing new Renewable Fuel Standard volume obligations for next year even longer as it grapples with trying to please both the oil and the ethanol industries.