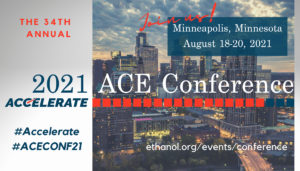 The American Coalition for Ethanol (ACE) 34th annual conference is less than a month away now and plans include a variety of breakout sessions covering the latest in technology updates, strategic planning advice, and ways to make ethanol plants more profitable.
"Our conference theme is 'Accelerate,' which aligns with the membership initiative we launched this year that builds upon ACE's work to increase demand and value through new clean fuel policies, protect and support existing policy-driven markets, and develop domestic and international markets," said Shannon Gustafson, ACE Senior Director of Operations and Programming. "This year's breakout sessions will explore a variety of technologies, strategies, and practices that complement these efforts to help producers accelerate this industry to the next level."
The breakout sessions will be held concurrently in three rounds on the afternoon of Thursday, August 19, following the morning general session panels.