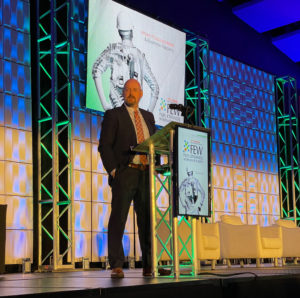 Renewable Fuels Association (RFA) President and CEO Geoff Cooper told participants at the 2021 International Fuel Ethanol Workshop and Expo Wednesday that low-carbon ethanol's "brightest and sunniest days remain ahead" despite recent judicial setbacks and a growing policy push on electric vehicles.
Even after two recent disappointing court decisions, "The ethanol industry is still in a stronger position today than we've been in for years," Cooper told the Des Moines audience. "Our outlook remains bright, despite what the headlines and our opponents would like us to believe."
The potential impacts of the June 25 Supreme Court decision on small refinery exemptions and the July 2 D.C. Circuit Court decision to reverse year-round E15 sales will be more limited than some believe, Cooper said.
Cooper highlighted that ethanol can play a major role in efforts to greenhouse reduce emissions from the transportation sector, especially if additional state low-carbon fuel standards, or a national LCFS program, are adopted. "Even after accounting for all of energy and emissions associated with every step of the ethanol production process, today's corn starch ethanol is shown to reduce greenhouse gas emissions by nearly 50 percent compared to gasoline," he said. "Clearly, we are already on our way to 'net zero' with ethanol. Proper accounting of soil carbon accumulation in corn fields, using biogas for thermal energy, or adopting carbon capture and sequestration could make corn ethanol carbon neutral—or even carbon negative."
Listen to Cooper's remarks here:
FEW 2021 Keynote RFA CEO Geoff Cooper (27:00)
Click here for the keynote remarks as prepared, and here for the slides used in Cooper's presentation.