The International Fuel Ethanol Workshop & Expo (FEW) kicked off live and in-person this morning with annual awards presented by BBI International and Ethanol Producer Magazine.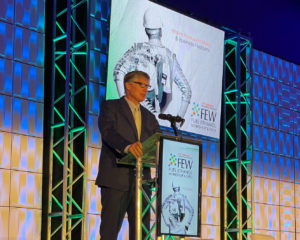 Steve Markham, who currently serves as director of risk at CHS Inc., is the 2021 recipient of BBI's High Octane Award, which acknowledges a person who has helped the industry progress over time, especially through market development and product championing. The High Octane Award is given to the ethanol industry's top market builders, strongest advocates and our most ardent and engaged industry supporters.
During his decades-long career, Markham has been a driving force in the development of domestic and international distillers grains usage. He pioneered the practice of third-party marketing for the valuable ethanol industry coproduct. Markham also played an important role in facilitating early research projects for distillers grains and guided industry developments related to rail and barge transportation as market demand for distillers grains grew. Markham is a passionate advocate of the important work the U.S. Grains Council does to increase global demand for distillers grains and is a regular speaker at the organization's overseas events.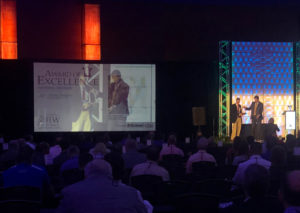 Kurt Rosentrater, executive director and CEO of the Distillers Grains Technology Council and associate professor at Iowa State University's Department of Agriculture and Biosystems Engineering, is the 2021 recipient of BBI's Award of Excellence, which recognizes individuals who have made significant contributions to the fuel ethanol industry through their research, technical advisory and/or development activities.
For nearly 20 years, Rosentrater's unique approach to research has helped overcome challenges and improved utilization of distillers grains coproducts. Specifically, his work has helped improve material handing and storage of distillers grains. He was the first to develop a commercially viable method to pelletize 100 percent distillers dried grains with solubles (DDGS). Rosentrater has also helped develop new market opportunities for distillers grains in aquaculture.
The 2021 FEW opened this week with over 300 exhibitors and 1800 attendees.