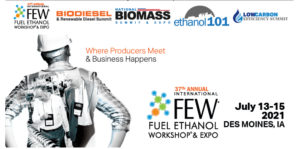 Members of the ethanol industry are gearing up to be able to see each other again next week at the 2021 International Fuel Ethanol Workshop and Expo (FEW) July 13-15 in Des Moines.
The general session kicks off Wednesday morning with the keynote address from Renewable Fuels Association President and CEO Geoff Cooper who will have plenty to discuss regarding the current state and future of the ethanol industry with recent negative court decisions. Cooper will be followed by a panel discussion on "Charting the Prospects for the Renewable Fuels Sector in the Biden Era" featuring Troy Bredenkamp with RFA, American Coalition for Ethanol CEO Brian Jennings, and Chris Bliley with Growth Energy.
The following panel "Paradigm Shift: Surveying Producer Attitudes about New Products and Markets in a New Era of Biorefining" will provide perspectives from ethanol producers including Mick Henderson, Commonwealth Agri-Energy; Walt Wendland, Ringneck Energy; and James Broghammer, Pine Lake Corn Processors.
Over 300 exhibitors will be at FEW this year and more than 430 biofuels producers are registered. Registration is complimentary for producers.