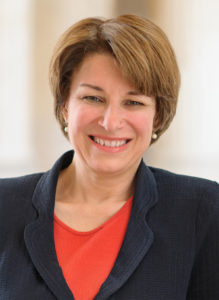 U.S. Senator Amy Klobuchar (D-MN) has announced the introduction of a new package of bipartisan bills, along with Senators Joni Ernst (R-IA) and John Thune (R-SD), to expand the availability of low-carbon renewable fuels, incentivize the use of higher blends of biofuels, and reduce greenhouse gas emissions.
The legislation, supported by the Renewable Fuels Association (RFA) and American Coalition for Ethanol, includes the Biofuel Infrastructure and Agricultural Product Market Expansion Act, which would expand the availability of low-carbon renewable fuels in the marketplace by providing for federal investment in renewable fuel infrastructure like blender pumps and storage tanks.
The Clean Fuels Vehicle Act would incentivize the manufacture of Flex Fuel Vehicles (FFVs) capable of utilizing higher blends of clean fuels. The bill would create a $200 refundable tax credit for each FFV manufactured for the light duty vehicle market. The credit would be made available to Original Equipment Manufacturers (OEMs) and sunset after a period of 10 years.
Finally, the Low Carbon Biofuel Credit Act introduced with Sen. Thune would create a tax credit for each gallon of fuel containing 15 percent or greater ethanol content (E15) and would allow an ethanol blender or fuel retailer to claim a five cent tax credit for each gallon of E15 blended or sold and a 10 cent tax credit for each gallon greater than E15 blended or sold. Reps. Cindy Axne (D-IA) and Adrian Smith (R-NE) introduced similar legislation in the House.