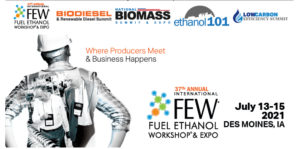 The 3th annual International Fuel Ethanol Workshop will be held in Des Moines July 13-15 and one of the event's longtime traditions is the presentation of the industry's High Octane Award and Award of Excellence. Nominations for both awards are now being sought, with a deadline of June 4.
The Award of Excellence, established by BBI International in 2000, recognizes individuals who have made significant contributions to the fuel ethanol industry through their research, technical advisory and/or development activities. Last year's winner was Douglas Tiffany, University of Minnesota.
The High Octane Award acknowledges a person who has helped the ethanol industry mature and progress over the years. This award, established in 2000 by BBI International, recognizes a person whose passion and unstoppable pursuits have significantly benefited the ethanol industry. Previous winners include such well-known industry pioneers as Ray Defenbaugh, Steve Vander Griend, and last year's winner Doug Durante.