The ethanol industry responded this week to USDA's request for information regarding the role for "climate-smart agriculture" and biofuels in combating climate change.
The Renewable Fuels Association (RFA) offered a number of recommendations, including:
As directed by Congress, USDA should actively coordinate and consult with EPA on implementation of the Renewable Fuel Standard, especially with regard to the analyses and studies required as part of the process to establish RFS volumes in 2023 and beyond.
USDA should continue to look for opportunities to assist fuel retailers and marketers who wish to install infrastructure suitable for distributing higher biofuel blends.
The Department should redouble efforts to ensure its fleet of vehicles, which includes a large number of flex-fuel vehicles, is consistently fueled with low-carbon ethanol blends.
USDA should support technology- and feedstock-neutral policy approaches to reducing GHG emissions from the transportation sector.
In consultation with DOE and EPA, USDA should take a leadership role in ensuring the administration has current data, appropriate modeling tools, and an accurate understanding of the lifecycle carbon impacts of producing and using biofuels.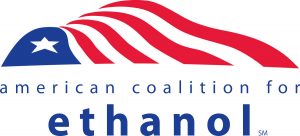 Comments from the American Coalition for Ethanol (ACE) encouraged USDA to help establish a protocol for biofuel producers and farmers to easily document the carbon intensity benefits of changes in agricultural practices and develop a commonsense framework to verify practices that sequester carbon in the soil.
The written comments highlight that today's corn ethanol meets the definition of an advanced biofuel with its ability to reduce greenhouse gas (GHG) emissions by 50 percent compared to gasoline. "In other words, we do not need to wait for so-called next generation crops or biofuels, or electric vehicles (EVs) and an entirely new supply chain to support them, to immediately begin tackling climate change."
Further, the gold standard tool for determining lifecycle GHG emissions of transportation fuels, the GREET model, will be updated soon to account for further adoption of climate-smart farming practices, which would credit corn ethanol for GHG emissions reductions between 60 and 70 percent compared to gasoline. In fact, ACE commented, ethanol is the only transportation fuel that can reach net-negative carbon intensity through carbon capture and sequestration and continued advancements within ethanol facilities and on-farm practices in how biofuel crops are grown.