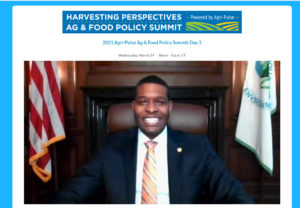 The day after the Environmental Protection Agency finalized a rule to extend the Renewable Fuel Standard (RFS) compliance deadlines for 2019 and 2020 until 2022, Administrator Michael Regan told the Agri-Pulse Ag and Food Policy Summit they are focused on getting the program back on track.
"More transparency, more certainty in the decisions that we've made and looking at fuel volumes and things like that," said Regan when asked about the role of biofuels in climate solutions. "EVs are very important but we're going to need a suite of options for our transportation agenda and biofuels, especially advanced biofuels, are part of that agenda."
Regan's :52 comment on biofuels comes at 13:12 in the interview.
Ag and Food Policy Summit - EPA Admin Michael Regan
(23:45)