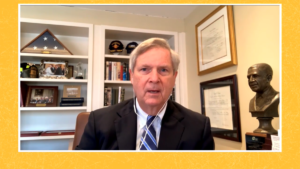 U.S. Secretary of Agriculture Tom Vilsack sees a continued need for biofuels in the future.
"Most of you will still be around 20 or 30 years from now and I think you're still going to have a need for and a higher demand for renewable fuels," said Vilsack in a virtual appearance concluding the 2021 Commodity Classic Special Edition last week. "The reality is, this industry is going to be around for quite some time."
The secretary said USDA will continue to support the Renewable Fuel Standard (RFS) and work with the Environmental Protection Agency and Congress to maintain its integrity going forward.
Listen to Secretary Vilsack's full comments on renewable fuels.
Secy Vilsack comments on renewable fuels (4:04)

Hear the secretary's full remarks from the Commodity Classic closing session moderated by NAFB president Gale Cunningham:
2021 Classic - Secretary Vilsack (48:53)
If you missed it last week, you can still register by March 12 and watch more than 50 archived sessions on-demand until April 30, 2021.