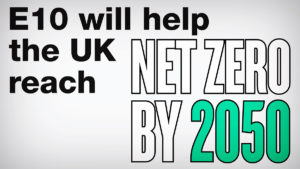 "Motorists across the UK are set to shift to a greener fuel with the introduction of E10 at petrol stations in September 2021," announced a February 25 GOV.UK press release.
That announcement is very welcome news to ethanol producers in the United States, according to a joint statement from Renewable Fuels Association, Growth Energy and the U.S. Grains Council. "The United Kingdom's introduction of an E10 ethanol blend comes amid a global push to decarbonize the transportation sector and reduce greenhouse gas emissions. This is a welcome announcement that will benefit the health of U.K. residents, create more jobs, and accelerate the country's goal of a zero-emissions future. It is also another example of how biofuels like ethanol are being used to help countries achieve their climate targets."
Transportation fuel in the UK currently has either no ethanol or up to five percent, known as E5. UK Transport Secretary Grant Shapps says, "the small switch to E10 petrol will help drivers across the country reduce the environmental impact of every journey, as we build back greener."
The UK government included an informational video about the benefits of E10 in its formal announcement.