The board of Renewable Fuels Nebraska (RFN) has named Pam Miller interim executive director, effective earlier this month.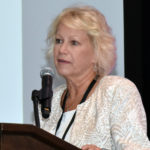 Pam has been involved in the ethanol industry since 2004. At that time, she was an elected official, serving as a county commissioner in Northeast Nebraska. As such, she created the Dakota County Economic Development Committee. A thorough SWOT analysis of the county led to the genesis of Siouxland Ethanol as an economic development project. Pam became one of the original founders of Siouxland Ethanol, wrote the business plan for the company, and became passionate about the value-added benefits of this clean source of octane. Siouxland Ethanol began as a 50 million gallon dry mill ethanol plant in Jackson, Neb., in 2007 and has expanded to producing more than 90 million gallons of ethanol a year.
Miller has also served on the boards of the Renewable Fuels Association, American Coalition for Ethanol, and Renewable Fuels Nebraska. As interim executive director for RFN, Miller replaces Troy Bredenkamp, who recently joined the RFA as Senior Vice President for Government and Public Affairs in Washington DC.