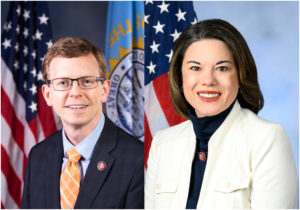 U.S. Representatives Angie Craig (D-MN) and Dusty Johnson (R-SD) led the Congressional Biofuels Caucus in introducing bipartisan legislation last week to ensure transparency and predictability to the Environmental Protection Agency's small refinery exemption (SRE) process.
The Renewable Fuel Standard Integrity Act would require small refineries to submit a petition for a Renewable Fuel Standard (RFS) hardship exemption by June 1st of each year, allowing EPA to properly account for exempted gallons in the annual Renewable Volume Obligations set each November. The bill would also increase transparency by mandating the public disclosure of data surrounding SREs – a process that has previously been carried out behind closed doors with little to no congressional oversight.
American Coalition for Ethanol (ACE) CEO Brian Jennings thanked Reps. Johnson and Craig for reintroducing this bipartisan legislation. "This legislation is necessary because under President Trump, EPA brazenly granted nearly 90 waivers for small refineries, erasing over 4 billion gallons from the RFS volumes established by Congress. As of today, 66 additional refinery waivers are pending," said Jennings.
Craig and Johnson were joined in introducing the RFS Integrity Act by Reps. Cindy Axne (D-IA), Rodney Davis (R-IL), Mark Pocan (D-WI) and Adrian Smith (R-NE). Rep. Craig's recent appointment to the House Committee on Energy and Commerce will allow her to play a key role in fighting for its passage this year.