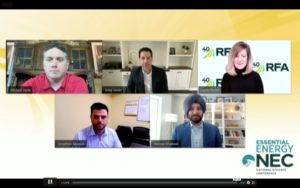 The case for higher ethanol blends to lower emissions is stronger than ever and retailers are more receptive than ever.
Renewable Fuels Association Director of Market Development Cassie Mullen led a panel discussion during the digital National Ethanol Conference this week focused on tapping new markets for higher blends. Her panelists included fuel marketers and retailers from coast to coast talking about the opportunities.
On the panel were Greg Jones with Pearson Fuels; Michael Hyde, H&H Operations; Jonathan Baixauli, Orion Oil; and Ronnie Dhaliwal, Bulk Petroleum.
In this interview, Mullen reviews highlights of the discussion.
2021 NEC Interview with Cassie Mullen, RFA
8:38
The National Ethanol Conference wraps up today with sessions on consumer perceptions of ethanol, new uses, and LCFS policies.
All of this week's sessions are now available on demand for conference attendees. Highlights can be found on the NEC virtual newsroom.