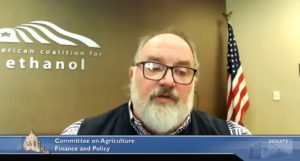 American Coalition for Ethanol (ACE) Senior Vice President Ron Lamberty shared his insights on E15 equipment compatibility with existing infrastructure during a virtual hearing yesterday in the Minnesota Legislature on a bill which would increase the state's minimum biofuel content in gasoline to 15 percent.
Lamberty's testimony focused on clearing up misconceptions about equipment needed to sell E15, particularly underground storage tanks, lines and pipe dope.
"One of the products we have been encouraging station owners to offer is E15," Lamberty said. "You're all familiar with E15, and as you've been gathering information on this proposed legislation, you're becoming familiar with one of the major points of resistance from station owners, and that is incorrect information about the cost of adding E15."
To correct this misinformation, ACE created an online E15 equipment compatibility tool called Flex Check where retailers can enter the manufacturer or model number of their tanks, piping, and other equipment, and find out if they are already E15 compatible.
Minnesota was the first state to require a minimum E10 fuel blend back in 1997 and this legislation would make it the first with an E15 standard. Iowa introduced legislation last week toward the same goal.