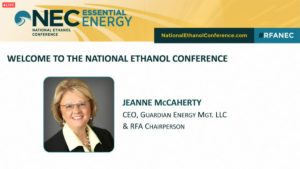 The new chairperson of the Renewable Fuels Association welcomed attendees to the first digital National Ethanol Conference this week.
Guardian Energy CEO Jeanne McCaherty took over as chair of the RFA in October so this was her first NEC welcome. McCaherty reflected on the 40th anniversary of the RFA, the toll 2020 took on the industry, and the opportunities for ethanol in a low carbon future.
2021 NEC RFA Chair Jeanne McCaherty welcome
4:31
The National Ethanol Conference continues today with keynote speaker author Daniel Yergin Vice Chairman, IHS Markit. Sessions include how ethanol fits in the future of automobiles, the latest GREET results for ethanol's carbon intensity, international markets, and higher blends.
All of yesterday's sessions are now available on demand for conference attendees. Highlights can be found on the NEC virtual newsroom.