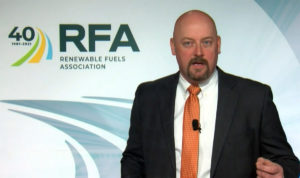 Renewable Fuels Association President and CEO Geoff Cooper focused forward in his annual state of the industry address at the 26th annual National Ethanol Conference on ethanol as the essential energy that it is.
"While 2020 was an incredibly difficult year for the ethanol industry, it definitely taught us one thing: When America's ethanol industry stops running, so does America. Ethanol truly is Essential Energy," said Cooper.
Looking forward, Cooper said ethanol can and should play a central role in the effort to achieve net-zero greenhouse gas emissions by 2050. The carbon footprint of typical corn ethanol is already 50% better than gasoline, he said, with greater reductions on the way. "Mark my words, zero-carbon corn ethanol is coming," Cooper said.
Listen to the full address and press availability with reporters below:
2021 NEC State of the Industry, Geoff Cooper, RFA 24:40

RFA President and CEO Geoff Cooper press availability
2021 NEC Press Availability with RFA CEO Geoff Cooper 28:41
Images
2021 Digital National Ethanol Conference image album
National Ethanol Conferences Through the Years 2007-2020