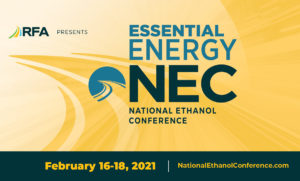 With all the buzz about electric vehicles and ideas that the combustion engine is on the way out, where does ethanol fit in the future picture of automobiles?
That question will be addressed next week at the digital 2021 National Ethanol Conference during one of several panels on hot topics in the industry. Renewable Fuels Association Vice President of Industry Relations Robert White will moderate the discussion with guests Michael Berube, Acting Deputy Assistant Secretary for Transportation, U.S. Department of Energy Office of Energy Efficiency and Renewable Energy; Stefan Unnasch, Managing Director, Life Cycle Associates, LLC; and Dan Gaspar, Manager, Pacific Northwest National Laboratory.
In this interview, White talks about why this topic is so important right now and some of the ways low carbon, high octane ethanol can play a role in an electrified future.
2021 NEC Interview with Robert White, RFA 8:12
Registration is still open for the all digital 2021 NEC, coming up February 16-18. Find out more about the conference at NationalEthanolConference.com.