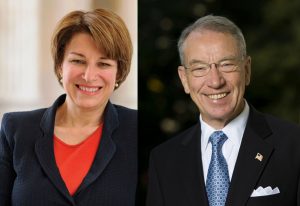 U.S. Senators Amy Klobuchar (D-MN) and Chuck Grassley (R-IA), along with more than a dozen others, sent a letter this week asking the Environmental Protection Agency to take immediate action on Renewable Fuel Standard (RFS) related issues. Those issues include reviewing small refinery waivers, issuing a proposed rule for the 2021 Renewable Volume Obligation, and advancing the proposed E15 streamlining proposal. The letter was sent to Acting Administrator of the Environmental Protection Agency (EPA) Jane Nishida and copied to administrator nominee Michael Regan.
Hours before the inauguration, former EPA Administrator Andrew Wheeler took action to exempt three unidentified oil refineries from their 2018 and 2019 RFS obligations under the Clean Air Act. These exemptions betrayed earlier assertions made by the Trump administration that the EPA would not grant or deny additional waivers pending the resolution of ongoing litigation over the use of the small refinery waiver authority. In January 2021, the U.S. Court of Appeals for the Tenth Circuit found that EPA had "grossly exceeded" its authority by granting certain small refinery exemptions. As this litigation continues, the Senators asked Acting Administrator Nishida to review the three waivers issued by Mr. Wheeler and, should they be deemed unacceptable, immediately reverse them.
"Fortunately, on January 21, 2021, the U.S. Court of Appeals for the D.C. Circuit…ordered an administrative stay of the three exemptions pending further order by the court. The order granting a stay…provides you a timely opportunity to carefully review the three midnight waivers and examine the previous administration's flawed approach to adjudicating waiver petitions. We urge you to take advantage of this opportunity," the Senators wrote.