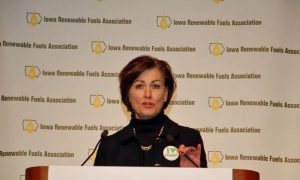 Iowa Governor Kim Reynolds will once again join other biofuel supporters from around the country at the Virtual Iowa Renewable Fuel Summit to look back on past obstacles overcome and future growth opportunities within the state for biofuels.
"Governor Kim Reynolds has been a true champion for biofuels and has taken every opportunity to seek growth opportunities for ethanol and biodiesel," Iowa Renewable Fuels Association Executive Director Monte Shaw said. "We look forward to hearing her thoughts on a path forward for biofuels in 2021."
The Iowa Renewable Fuels Summit is taking place on January 26th and is free and open to the public, but registration is required. To register to attend and learn more, visit IowaRenewableFuelsSummit.org.