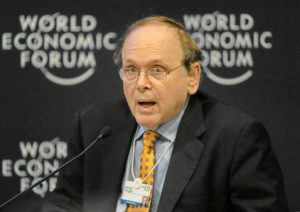 Pulitzer Prize winning author and energy expert Daniel Yergin will be a keynote speaker at the 26th annual National Ethanol Conference. Dr. Yergin will speak the morning of Wednesday, February 17, with a presentation titled, "The New Map: Energy and Geopolitics Coming Out of the Pandemic."
"Dr. Yergin's appearance at the NEC will be especially timely this year, as the geopolitical landscape continues to shift, climate policies are rapidly reshaping fuel markets, and the energy sector continues to recover from the devastating impacts of the COVID pandemic," said Renewable Fuels Association President and CEO Geoff Cooper.
Currently the vice chairman of IHS Markit, one of the leading information and advisory firms in the world with 16,000 employees worldwide, Dr. Yergin has served on the U.S. Secretary of Energy's Advisory Board under Presidents Clinton, Bush, Obama, and Trump. He is a director of the Council on Foreign Relations and a trustee of the Brookings Institution, serving also on the Energy Advisory Council of the Dallas Federal Reserve.
As an exclusive benefit for participating in this year's NEC, all registered attendees will receive a copy of Dr. Yergin's newest book, 2020's The New Map: Energy, Climate and the Clash of Nations. It has been selected as one of the Best Books of the Year by both USA Today and NPR, and The Book of the Year by Bloomberg Surveillance
Taking place digitally February 16-18, 2021, the National Ethanol Conference is the most widely attended executive-level conference for the ethanol industry. For more information, visit www.NationalEthanolConference.com.