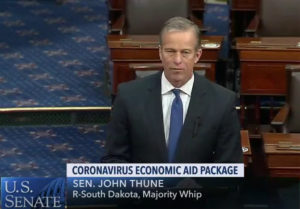 Agricultural and biofuels groups as well as farm state lawmakers are pleased that the new COVID relief package passed by Congress last night includes help for producers excluded from previous aid legislation.
Sen. John Thune (R-SD) says relief includes the Paycheck Protection Program for Producers Act. "The bill also includes funding to allow the Department of Agriculture to provide additional assistance to ag producers who were dealing with a tough economy before the pandemic hit," said Thune.
The bill explicitly makes producers of biofuels like ethanol and biodiesel eligible for USDA assistance, at the discretion of the secretary. "Biofuel producers have suffered from the drop in fuel demand during the pandemic and I hope the secretary will ensure that they are able to receive assistance," Thune said.
Sen. John Thune (R-SD) on COVID relief for agriculture
:58
The bill also extends key tax provisions that support innovation and expansion in the renewable fuels industry, including the Second Generation Biofuel Producer Tax Credit, Alternative Fuel Refueling Property Credit, and the Section 45Q tax credit for carbon sequestration.
Renewable Fuels Association (RFA) President and CEO Geoff Cooper says the aid is much needed. "More than half of the ethanol industry shut down during the extraordinary demand collapse in the spring, and producers across the country still have not fully recovered from that market shock. The pandemic has cost the industry nearly $4 billion in lost revenue to date, with losses expected to continue well into 2021."
American Coalition for Ethanol (ACE) CEO Brian Jennings says they were hoping Congress would require USDA to make relief payments to biofuel producers, but he expects Agriculture Secretary nominee Tom Vilsack will be supportive. "Congress gave USDA flexibility to provide relief for biofuel producers in the last stimulus package, but USDA declined to exercise it. That is why job one in 2021 will be to work with incoming USDA Secretary Vilsack, upon his confirmation in the U.S. Senate, to get assistance to the industry in rapid fashion."