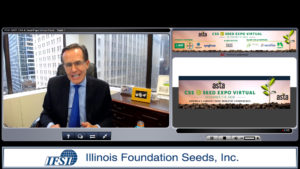 Dan Basse of AgResource Company presented his 8th annual agricultural outlook American Seed Trade Association (ASTA) virtual CSS and Seed Expo this week.
While 2020 was rough on the ethanol industry, Basse believes renewable fuels will benefit under a Biden administration. "I think initially they'll try to lean green so I think it's favorable for the U.S. ethanol industry," he said, forecasting about 5.3 billion bushels of corn to go into ethanol production next year.
Basse also expects demand for ethanol in China to increase and purchases to be made soon. "They're now kicking tires to buy U.S. ethanol and some of those high value products which they can buy before the end of the year," he said.
ASTA ethanol questions for Dan Basse, AgResource
(3:06)
Basse is bullish on agriculture for the year ahead. "In my 40 years I've never seen a change as dramatic as we had in August and September in which we lost crops from a flash drought in the central U.S. and then we had this demonstrative Chinese demand that was pent up because of years of trade war," he said. "We're optimistic, we think the Chinese need to put on a happy face for the Biden administration."
In this interview, Basse summarizes some of his main points in the agricultural outlook. His full presentation at the virtual ASTA CSS and Seed Expo is available on-demand for registered attendees.
ASTA Interview with Dan Basse, AgResource (11:45)
Find more content from ASTA CSS here:
2020 ASTA CSS & Seed Expo Virtual Newsroom