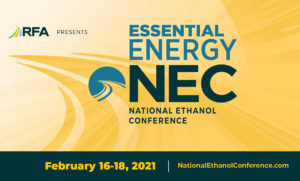 Registration is now open for the Renewable Fuels Association 26th annual National Ethanol Conference to be held in a fully digital format February 16-18.
Early bird registration is being offered before January 19 for significant savings on a packed program that already comes at a lower rate compared to 2020's event.
"These rates for the National Ethanol Conference, along with a convenient schedule spread over three days, will allow more people to take part in what has been the most visionary policy and marketing event for the renewable fuels industry," said RFA President and CEO Geoff Cooper. "Attendees will hear from leaders across the value chain and dive deep into topics such as ethanol's place in a low-carbon future, federal energy policy in transition, and new research on how consumers view renewable fuels. As RFA celebrates its 40th anniversary next year, we've got a landmark event planned to match the milestone."
In addition to enabling broader participation, the digital format will provide attendees the flexibility to view content live in real-time or on-demand and offer unique networking and business development opportunities.
The NEC is the nation's most widely attended executive-level conference for the ethanol industry, providing an unequaled opportunity to engage key decision makers and industry executives about the latest opportunities and challenges affecting the industry today. Last year's conference, which featured President George W. Bush as a special guest, attracted approximately 1,000 industry professionals representing 39 states, the District of Columbia, and 18 countries.
Director of Special Projects and Events Mary Giglio is the meeting planner for the digital event, which will be the 25th NEC she has planned and definitely the most unusual. In this interview, she talks about what they are planning for attendees.
Interview with RFA's Mary Giglio on the 2021 NEC
(8:43)