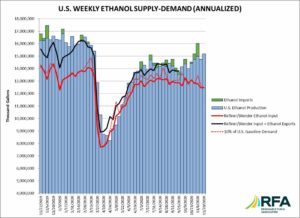 Weekly ethanol production is edging closer to pre-COVID levels.
According to the latest data analyzed by the Renewable Fuels Association for the week ending November 20, ethanol production increased almost 3% to 990,000 barrels per day and the highest production since the end of March. However, production remained 6.5% below the same week last year. The four-week average ethanol production rate rose for the seventh straight week, up 1.3% to 972,000 b/d, equivalent to an annualized rate of 14.90 billion gallons (bg).
Ethanol stocks grew by 3.3% to 20.9 million barrels, the highest volume since August and 2.9% above a year-ago.
Click on the image to see full size graph.
Find more ethanol supply and demand information from RFA.