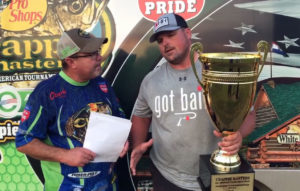 The Crappie Masters National Tournament Trail Championship was held this past weekend near Monroe, Louisiana where more than one hundred teams competed in the two-day tournament.
Eric Cagle was crowned the National Champion for his haul of fourteen fish weighing a total of 28.81 pounds. For his efforts, Cagle took home a grand prize of $30,000, along with a $2,000 bonus from the Missouri Corn Merchandising Council for using E10 in his boat.
The Renewable Fuels Association co-sponsors the Crappie Masters Tournament Trail to spread the message that 10% ethanol is safe to use in marine engines, has performance and environmental benefits, while higher blends beyond E10 are great for light duty and tow vehicles. Every National Tournament Champion in the past six years fueled their boats with E10, as well as dozens of state and national tournament winners over the years.
While the COVID pandemic did impact the Crappie Masters and tournaments were halted for a period of time, several states started loosening COVID restrictions and lockdowns in late April and early May, allowing many state chapters to resume hosting tournaments with appropriate protocols in place to keep folks safe.
Watch Crappie Masters host Brian Sowers interview the winner here.
[container style="max-width: 480px; margin: 0 auto; float:center;"] [x_video_embed no_container="false"]

[/x_video_embed]
[/container]