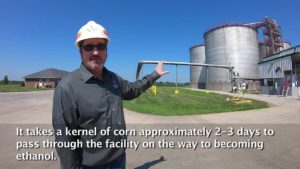 Congressional staff and other federal and state decision makers were able to go on a virtual tour of the U.S. ethanol industry last week, courtesy of the Renewable Fuels Association. The event included a series of educational videos and discussions with farmers, ethanol producers and one of the country's top fuel retailers.
Since 2009, RFA has co-sponsored the Iowa RFA Science & Sustainability Tour, which brings Washington, DC policymakers to Iowa for a hands-on experience with today's renewable fuels industry. Unfortunately, due to COVID-19, this year's tour was canceled.
"Each summer, we join IRFA in providing the opportunity for congressional, agency staff and others to get an inside look at the ethanol industry right in our nation's Heartland," said RFA President and CEO Geoff Cooper. "Unfortunately, this year we were not able to host the event in ethanol country, so we did the next best thing: We took the experience right to them, virtually. This gave congressional and agency staff the opportunity to hear from important ethanol industry stakeholders not just in the Midwest, but also in places like California and New York. We hope the event helped our audience understand the geographic diversity of our industry—and how we are all working together to bring clean, green, homegrown fuels to consumers everywhere."
Learn more about what the tour included from RFA.