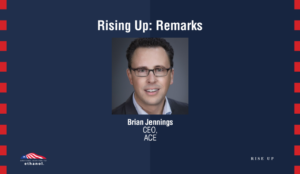 The virtual American Coalition for Ethanol (ACE) annual conference kicked off without a hitch this afternoon with opening remarks from Board President Duane Kristensen representing Chief Ethanol Fuels, followed by ACE CEO Brian Jennings reflecting on the struggles of the year so far and the opportunities for ethanol in a low carbon future.
"At the federal level, it is a matter of when, not if, Congress takes up sweeping climate legislation which will impact our industry and agriculture," Jennings stated. "That's why ACE has been going on offense to make a persuasive case that increasing the use of ethanol should be part of the climate solution, and consequently, there is a growing drumbeat in Congress for a new national Low Carbon Fuel Standard on top of the RFS to spur new ethanol demand."
Jennings prerecorded his remarks for the virtual event, but ACE issued a written update including comments the EPA denying gap year small refinery waivers, and potential for more restrictions to the expansion of E15 being removed. He also comments on those issues in this interview about the conference.
ACE 2020 Interview, Brian Jennings, CEO
(12:52)