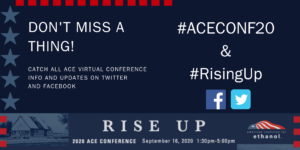 The 33rd Annual American Coalition for Ethanol Conference taking place on Wednesday afternoon of the Fuel Ethanol Workshop will be a lot different from any of the 32 that came before, but the agenda offers the same great content it always does.
The popular retailers panel will kick the meeting into high gear as ACE Senior Vice President & Director of Market Development Ron Lamberty talks with higher blend pioneers Nathaniel Doddridge with Casey's General Stores and Randy Gard, COO of Pump & Pantry/Bosselman. Gard represented retailers when President Trump visited SIRE ethanol plant in Iowa last year, and he talks about how the past year has been a pretty good one for selling higher blends in this interview.
ACE 2020 Interview with Randy Gard, Bosselman (8:35)

The ACE meeting will also feature a presentation by Tom Kloza, Global Head of Energy Analysis, Oil Price Information Service, on Fuel Marketing in the Time of Corona: A Look at Drastic and Not-So-Drastic Changes to Downstream Markets in the Next 15 Months. Listen to this interview with Kloza for a preview of his remarks.
ACE 2020 Interview with Tom Kloza, OPIS (11:35)

The meeting will wrap up with a Producer Perspectives panel featuring ACE Board President Duane Kristensen, Chief Ethanol Fuels; Dave Sovereign, Golden Grain Energy; and Neil Koehler, Pacific Ethanol. Sovereign says the conversation will include many important issues for producers.
Get a preview of that panel here:
[container style="max-width: 480px; margin: 0 auto; float:center;"] [x_video_embed no_container="false"]

[/x_video_embed]
[/container]