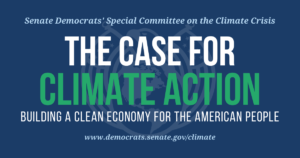 The Senate Democrats' Special Committee on the Climate Crisis released a plan this week to achieve 100 percent global net-zero emissions no later than 2050, which includes proper implementation of the Renewable Fuel Standard (RFS).
According to the report, "If implemented properly, the RFS gives farmers revenue stability, allowing U.S. agriculture to play an important role in reducing U.S. oil usage and further supporting rural economies."
In addition, the report suggests the potential for a federal Low Carbon Fuel Standard which "sets a maximum carbon intensity level for fuels that must be met each year, with the goal of increasing the range of commercially available low-carbon and renewable fuel alternatives." Groundwork for that has already been set with a report released in January of this year "A Clean Fuels Policy for the Midwest," developed by a broad coalition of biofuels and rural stakeholders.
"We are glad to see Senate Democrats recognize that renewable fuels like ethanol have an important part to play in our nation's low-carbon future," said Renewable Fuels Association President and CEO Geoff Cooper. "We are pleased to see the Committee acknowledge the role the Renewable Fuel Standard has already played in reducing emissions and we welcome the report's discussion of a potential national Low Carbon Fuel Standard (LCFS). This report complements the House Select Committee's recommendations in June, and it is clear that consensus is building around the need to further reduce GHG emissions from the transportation sector."
"ACE has been laying the strategic groundwork necessary to leverage ethanol's low carbon value in the market through new clean fuel policy solutions at the state and federal level," said American Coalition for Ethanol (ACE) CEO Brian Jennings. "Our engagement with Congress led the House Select Committee on the Climate Crisis to include a page from our Midwest Clean Fuel Policy blueprint in its June 30 report by recommending Congress develop a technology-neutral LCFS that would provide meaningful economic benefits to farmers and biofuel producers."
The senate report also endorses the value of carbon sequestration, noting that it can help sustainable farmers survive and thrive, and cites the important growth of bio-based products as smarter and healthier alternatives to those derived from fossil fuels – using corn ethanol as a prime example.