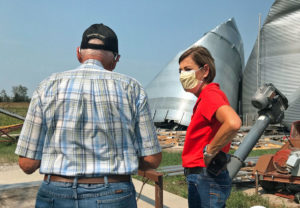 Iowa Gov. Kim Reynolds has allocated approximately $100 million of federal CARES Act relief funds for a range of agricultural programs to offset the impact of COVID-19 on farmers, producers and agricultural industries.
"Iowa is at the foundation of our global food supply chain and the epicenter of the renewable fuels industry," said Gov. Reynolds. "COVID-19 and a devastating derecho dealt a major blow to everything from the demand for ethanol to the supply of meat on grocery store shelves. But just as important are the livelihoods of thousands of Iowa farm families, agricultural industries and the communities they support. Today's investment reflects the critical role Iowa's ag industry has in our state's overall economic recovery."
For renewable fuel producers, $15.5 million will go to the State Biofuel Grant Program. Since biofuels producers were excluded from receiving aid under other parts of the CARES Act, this program will provide relief to those Iowa ethanol and biodiesel producers based on gallons produced. Grants will also be awarded through an existing small business relief program and are capped at a maximum grant of $750,000 per producer.
In addition, $7 million is being allocated to the Renewable Fuel Retail Recovery Program. Announced previously, this funding supports a program that helps expand retail fueling infrastructure for higher blend renewable fuels, including E15 or higher & B11 or higher.
"Governor Reynolds has provided a much-needed lifeline for Iowa's renewable fuels producers," said Iowa Renewable Fuels Association Executive Director Monte Shaw. "At its peak, the COVID-19 pandemic led to the idling of roughly 50 percent of Iowa's biofuels production capacity. Even today fuel use has not returned to normal and biofuels producers are struggling to simply breakeven. IRFA members from across the state are deeply grateful for Governor Reynold's leadership as they work to recover from the financial blow wrought by the pandemic."