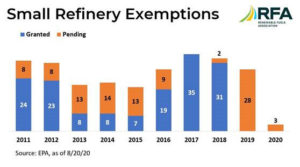 The Environmental Protection Agency now has 98 requests for RFS Small Refinery Exemptions parked in its online dashboard for consideration.
The agency has received another nine new small refinery exemption requests for previous years, along with three new current waiver petitions for 2019-2020. The prior year petitions include one each for 2011 and 2012, two each for the years 2013 through 2015, and a new one for 2016. That brings the total requests for so-called "gap year" waivers to 67 – all of which have been filed since the 10th Circuit Court decision in January which struck down a set of waivers granted because they were not direct extensions of ones previously granted, as required by law.
Renewable Fuels Association (RFA) president and CEO Geoff Cooper says it is past time for President Trump to intervene. "As more and more waiver requests pile up, we are again asking the President to ensure EPA immediately adopts the recent Tenth Circuit court decision nationwide and rejects these nonsensical gap-year petitions, Cooper said. "The Saudi-Russia oil price war, COVID pandemic, ongoing trade war, and now a historic derecho have already taken a devastating toll on our markets, and faithful enforcement of the Renewable Fuel Standard is more important now than ever before."
"This week in Iowa, President Trump promised to personally speak with EPA about these absurd gap-year waivers and the impact they are having on ethanol producers and the farm economy. That conversation can't happen soon enough, as pending petitions are now closing in on the century mark," said Cooper.
It was during a briefing in Iowa on Tuesday that Sen. Joni Ernst asked President Trump to talk with EPA about the issue and request they follow the intent of the law with the Renewable Fuel Standard. "We'll speak to them," said the president. "I'll do it myself."